Easter a Time for Rejoicing –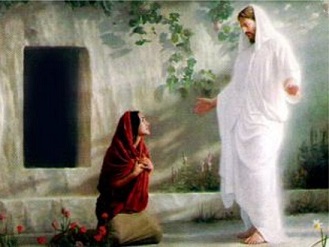 "Blessed be the God and Father of our Lord Jesus Christ, who according to His great mercy has caused us to be born again to a living hope through the resurrection of Jesus Christ from the dead, to obtain an inheritance which is imperishable and undefiled and will not fade away, reserved in heaven for you." (1 Peter 1:3-4)
He is Risen. Jesus Christ has risen indeed! Lent is past and Easter has come. The darkness that fell over the land on Good Friday has been scattered by the Light of Easter morning. Jesus, the Son of God was dead and behold, now He is alive forevermore. Death was swallowed in Him. Jesus was its plague. Hell (God's forsaking) took Him prisoner, but He rose from the dead and sets the captives free. Christ Jesus holds the keys of death and hell and of life and heaven. "I am the first and the last, and the living One; and I was dead, and behold, I am alive forevermore, and I have the keys of death and of Hades." (Rev. 1:17-18)
There were other resurrections in the Bible. The widow's son at Zaraphath through Elijah. The Shunamite's son through Elisha. Tabitha by Peter. Eutychus by Paul. The daughter of Jairus, the young man at Nain, and Lazarus by Jesus Himself. These resurrections belonged only to the ones resurrected. But it is only in the resurrection of Jesus that we have eternal life. "But now Christ has been raised from the dead, the first fruits of those who are asleep. . . 23 But each in his own order: Christ the first fruits, after that those who are Christ's at His coming." (1 Corinthians 15:20,23)
The Season of Easter is the high point of the Christian church year. Easter Sunday is the beginning of the Easter season, which 50 days and ends on Ascension Day. The paschal candle is lit for every service as a sign of the risen Christ. The Bible readings highlight our connection to the death and resurrection of Jesus Christ given to us in holy baptism and received by faith. During the Easter season the Bible readings, prayers, and hymns proclaim the life, power, perseverance, and joy the resurrection gives to Christians even in the midst of suffering and doubt. Jesus said to His disciples. "Therefore you too have grief now; but I will see you again, and your heart will rejoice, and no one will take your joy away from you." (John 16:22) Please join us for Easter–all season long.
Divine Service
Our church is located at 526 E Washington St in East Peoria, and Divine Service with Holy Communion is at 9:00 AM every Sunday. We hope to see you there!
To see other upcoming events, please click Calendar on the menu. If you would like any more information about us, please do not hesitate to reach out and contact us!
Use the menu links to explore more about our church, what we believe, and much more.
If you want a reason for why you should consider visiting us or even just think about looking into Lutheranism, check out this essay on Lutheranism
And check out our interactive presentation about Lutheranism and Immanuel. It's a great starting point!